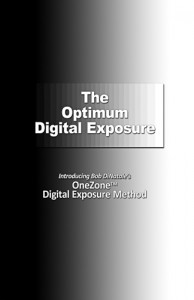 "The Optimum Digital Exposure" was released October 28th, 2014 in PDF electronic format.
It should be available in paperback at Amazon by mid-November.

Currently, the book can be purchased in PDF format from this site.
Purchase the Book: [Click Here]

The book presents the concepts of digital exposure in a simple yet thorough manner. It also includes my OneZone™ Method for obtaining the Optimum Exposure.  There are many examples to support your learning.
This site supports the book with videos, exercises, and hi-res photo files of photos example in the book.
Also, for a limited time, I will also offer the book in PDF format for $99…
…the cost includes 99 minutes of 1-on-1 Online Training. [Click]